Welcome to news.com.au's coverage of Day 4 of the third Test between Australia and South Africa.
Constant rain in Sydney meant play on Friday was abandoned without a ball being bowled on a frustrating day for all involved at the SCG.
2.30pm – Hazlewood gets his man
After the third umpire denied him of the opening wicket, Josh Hazlewood dismissed Dean Elgar soon after for 15 with a searing delivery that caught Elgar's gloves and soared through to keeper Alex Carey.
Adam Gilchrist said on Fox Cricket: "Josh Hazlewood, that is vicious. That is brutal. He knew exactly what he was doing."
2.15pm – More catch controversy
Cricket has a funny way of evening itself out.
A couple of days of Marnus Labuschagne was given a life after a slip catch was ruled not out, South African captain Dean Elgar has escaped in similar fashion.
Elgar edged a ball from Josh Hazlewood through to the slips, where Steve Smith reach out with his right hand and appeared to take the catch.
But even though the ball landed in his hand and he had his fingers around it, replays showed Smith wiping the ball on the turf as he tried to hold onto the catch.
That was enough to convince the third umpire he hadn't held onto the catch and he ruled it not out. However not everyone was convinced.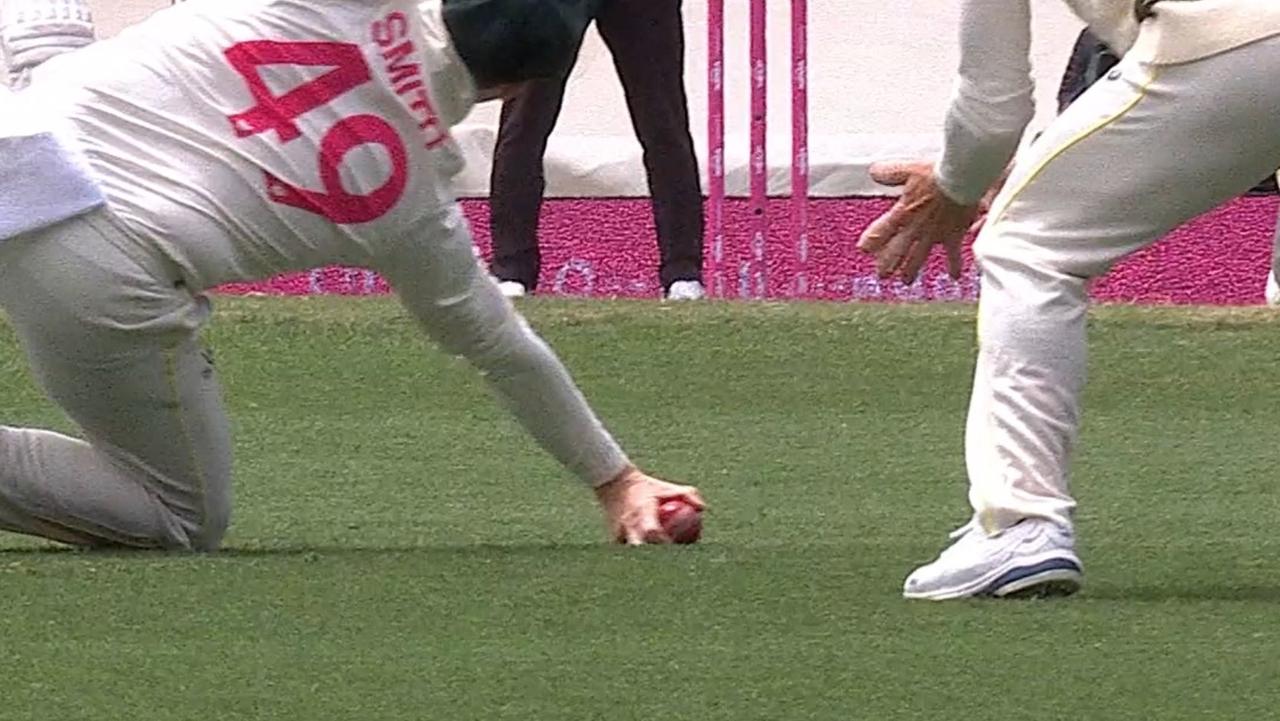 1.15pm – Cummins leaves Khawaja stranded on 195
Pat Cummins has left Usman Khawaja stranded just five runs short of a maiden Test double century, declaring to end Australia's first innings at 4/475.
Khawaja will remain unbeaten on 195 from 368 balls, while Matt Renshaw is left on five not out, off 11 balls.
The Aussie captain was willing to give Khawaja some time to reach his double century this morning, however more bad weather ruined those plans as time pressure built on Australia to chase down a victory.
Fox Cricket commentators agreed it was the right call by Cummins to put the team before individual achievements.
The pressure is now on South Africa's out-of-form batting line-up to perform on a spin-friendly pitch.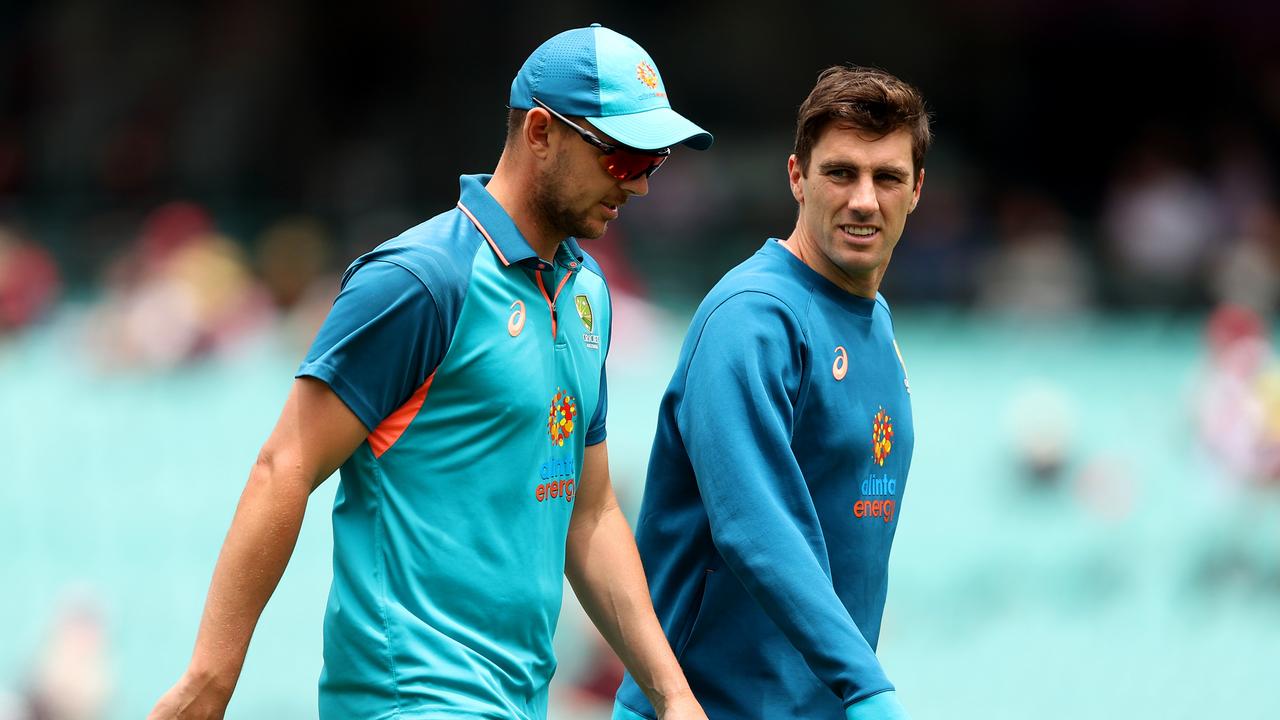 Josh Hazlewood and Pat Cummins of Australia are seen during day four. (Photo by Mark Kolbe/Getty Images)
12pm – Covers come off amid fresh pitch drama
The covers are coming off the SCG pitch again as the sun slowly peaks through the skies above Moore Park.
With hope play will soon be able to get underway lunch has been rescheduled to 12:30pm before another pitch inspection at 12:45pm.
"It's as clear and as warm as it's been in a day-and-a-half," Fox Cricket commentator Mark Howard said.
It's understood there are fresh concerns around the state of the pitch due to some dampness on the wicket after almost two full days of non-stop rain in Sydney.
Reports have emerged that the hessian covers over the pitch were wet, meaning the pitch hadn't been correctly protected from the wet weather.
However ground staff are doing everything in their power to rectify the issue with some using air blowers in an attempt to make the pitch playable for an afternoon of action.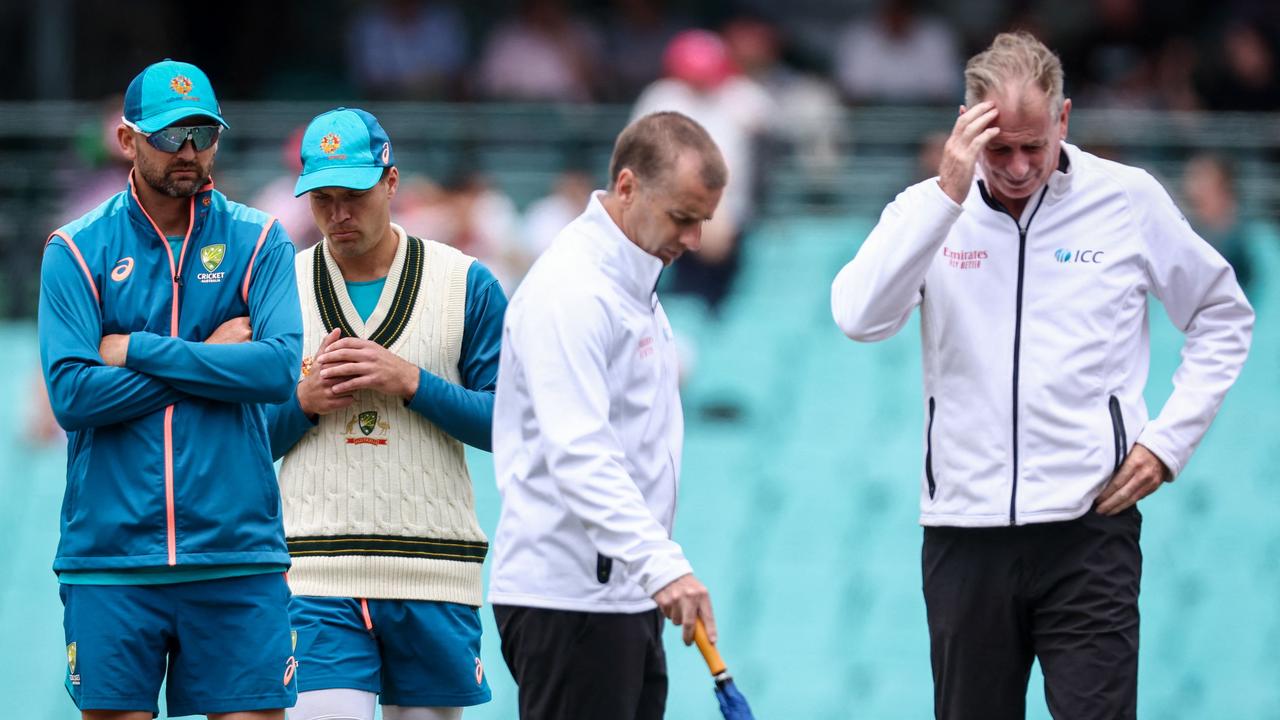 11am – Khawaja could be robbed of double ton
Usman Khawaja is on 195 not out, with Matthew Renshaw unbeaten on five after surviving a Covid scare to take his place in the team.
With only two days left and the game still in the first innings, Australian captain Pat Cummins could declare during the rain delay in an effort to keep the game moving.
That would rob Khawaja of the five runs he needs to bring up his maiden Test double century.
Khawaja has continued his love affair with the SCG, bringing up his third century in a row at the ground — joining Wally Hammond, Doug Walters and VVS Laxman as the only players to achieve the feat.
Khawaja believes it would be harsh if Cummins declared and left him stranded agonisingly short of a double century.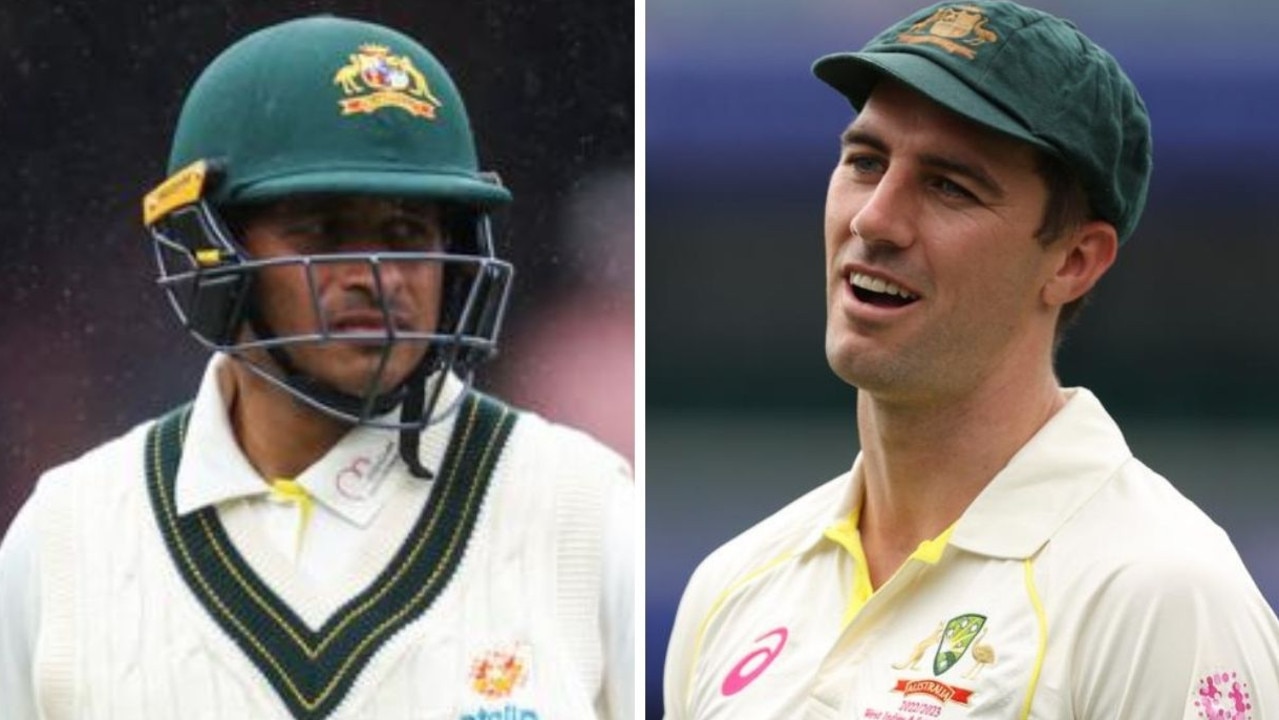 Surely Pat Cummins couldn't rob Uzzie of a double ton?
"I'm not the captain, I don't make those decisions," Khawaja said of the call whether or not to declare.
"I think it would be pretty harsh if he (Cummins) bowled straight away, I don't think that's going to happen.
"(Cummins has) been making a few jokes around the changerooms (about declaring) … taking the mickey out of me.
"We could go out there and get a few more runs really quickly, or we could declare pretty much straight away.
"It's obviously a decision he'll have to make tomorrow, decide on what the weather's doing and how he wants to play out this game.
"I think there will still be an opportunity to try and win this game, so I can't imagine us just going 'oh, we'll bat all day tomorrow'.
"If you don't give yourself a crack at trying to win the game at least, you've done a disservice to the actual game.
"But obviously we need to bowl at some stage if we want to try and win the game."
Source : News